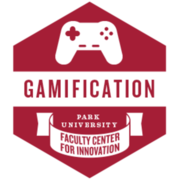 Gamification (Share)
Research shows positive learning gains with the integration of gamification. Therefore, it's important for today's innovative instructors to learn new strategies and techniques with ever evolving technology that exists within this domain.
Criteria
Recipient has learned about and implemented gamification practices to the extent that she/he can influence the learning of others inside or outside the Park University community. He/she has shared their expertise on the topic of gamification in one or more of the qualifying venues: presenting an FCI Innovation Exchange, creating an FCI "Two-Minute Mentor," presenting at a Department, School, or College meeting, facilitating a session at the Annual Assessment Institute or a similar University-wide event. [enter form]
Credit Created by
Gamification (Share)
Have you earned this credit?
Be the first to claim this Credit!