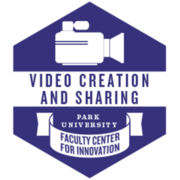 Video Creation & Sharing (Learn)
Video Creation & Sharing refers to the development and creation of video-based communication for enhanced teaching and learning.  This badge acknowledges professional development completed that is designed to assist instructors in creating and sharing video-based resources in higher education to support enhanced learning.
Criteria
Recipient participated synchronously or asynchronously in a Faculty Center for Innovation-sponsored learning community on the topic of Video Creation & Sharing and has produced a reflection on how the knowledge gained has affected his/her teaching, scholarship, or service.
Credit Created by
Video Creation & Sharing (Learn)
Have you earned this credit?
Be the first to claim this Credit!