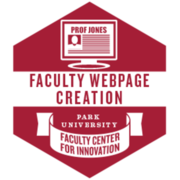 Faculty Webpage Creation (Share)
The creation of a faculty webpage produces an electronically accessible webpage or website that can host a collection of multimedia content, links, pages, and various information pertaining to a course or instructor.  This badge acknowledges expertise development to create a faculty webpage or website.
Criteria
Recipient has learned about and implemented practices for Teaching with Technology to the extent that she/he can influence the learning of others inside or outside the Park University community. He/she has shared their expertise on the topic of Faculty Webpage Creation in one or more Park-sponsored or FCI-sponsored events (such as presenting an FCI Innovation Exchange, creating an FCI "Two-Minute Mentor," presenting at a Department, School, or College meeting, facilitating a session at the Annual Assessment Institute or a similar University-wide event).
Credit Created by
Faculty Webpage Creation (Share)
Have you earned this credit?
Be the first to claim this Credit!