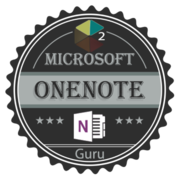 OneNote Level 2
Dynamically share content with your classes.  Using Class Notebook teachers and students can work together on building curriculum content.  If you like 3 ring binders imagine the power of putting a copy in every students hands.  One Note does that and much more.
Criteria
***TEACHERS PLEASE NOTE THAT ALL EVIDENCE UPLOADED HERE IN CREDLY IS PUBLICLY ACCESSIBLE FROM YOUR PERSONAL PROFILE PAGE AS WELL AS THE DISTRICT LEVEL PAGE.  MAKE SURE ANYTHING SHARED AS EVIDENCE IS OK TO BE SHARED IN THIS MANNER.  NOTHING SHOULD BE SHARED THAT IDENTIFIES A STUDENT DIRECTLY***

UPDATE to Video - share screenshots of the notebook that you are using for yourself or with other Teachers.  DO NOT send the link or share, just submit screenshots showing how you are using OneNote .
Credit Created by