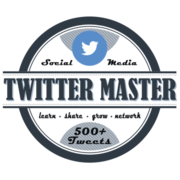 Twitter Master
Time is short already, but teachers are life-long learners.  Twitter is a great resource for sharing and finding new ideas and tools.  It is amazing what can be accomplished in 140 characters or less.  Join Twitter and share your @handle with us to earn this badge.
View this video
if you are unsure how to check your Tweet numbers.
Criteria
***TEACHERS PLEASE NOTE THAT ALL EVIDENCE UPLOADED HERE IN CREDLY IS PUBLICLY ACCESSIBLE FROM YOUR PERSONAL PROFILE PAGE AS WELL AS THE DISTRICT LEVEL PAGE.  MAKE SURE ANYTHING SHARED AS EVIDENCE IS OK TO BE SHARED IN THIS MANNER.  NOTHING SHOULD BE SHARED THAT IDENTIFIES A STUDENT DIRECTLY***

500+ Tweets is all it takes to be a Twitter Master.  Upload the screenshot showing you have reached the Master milestone and get this Level 3 badge!



Credit Created by