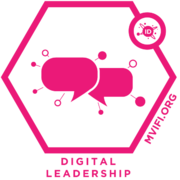 Digital Leadership: Master
Digital leaders must consider the global reach of their online presence. Badge earner has demonstrated repeated leadership by developing other leaders who advance the knowledge and skill acquisition of other learners.. Mastery is demonstrated by innovating the very field of digital leadership.
Criteria
Demonstration of both facilitation of training and creation of tools, methods, or processes to aid others in their acquisition of new skill. 

Evidence may include showcasing portfolio of work that demonstrates innovative contributions to the field.
Credit Created by