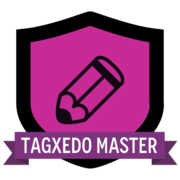 Tagxedo Master
Tagxedo is a Word Cloud creator. By earning this badge, you have learned to enter your own words and change the color scheme, font, and shape to create a unique Tagxedo. You are capable of using the system confidently and are able to teach your students how to use it to create meaningful curriculum-based word clouds.
*Tagxedo is NOT available for use on GOOGLE CHROME. Please use Mozilla Firefox or Internet Explorer.
Tagxedo Tutorial: https://www.youtube.com/watch?v=P8pCZaFv0Ks
Criteria
In order to receive credit for the Tagxedo course, you must submit photo(s) or actual Tagxedo projects as evidence. 
Click Here for TAGXEDO
 website.
Credit Created by
Have you earned this Credit?
Claim Code
C7B-3D63-8F1
28 people have claimed this Credit