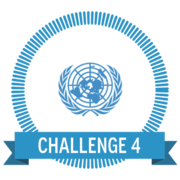 Challenge Four
United Nations Sustainable Development Goals Project Challenge Four requires the learner to select and embed a suitable video into their project website that relates to the specific UN goal.
Criteria
To earn this badge the  learner has:
Selected a suitable video from the  Sustainable Development Goals video page that reflects thier chosen goal.
Watched the video
Created a blog post called Video Blog Post.
Embedded the video into the blog post 
Written down five things learned about the chosen issue from the video n the blog poat.
Credit Created by
Have you earned this Credit?
73 people have claimed this Credit